Etamax specialises in the engineering and design of innovative and high performance yachts. All design done by etamax is based on engineering analysis, rather than scantlings or other empirical methods. &nbsp This means that unconventional and innovative boat structures can be designed with a high level of confidence in their ultimate success. Furthermore, significant weight and cost savings can often be achieved along with gains in performance.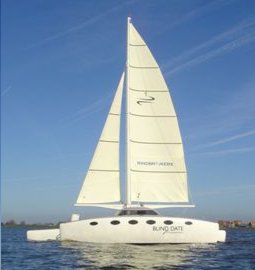 Harryproa's 15m / 49 ft 'Blind Date'
Etamax has broad experience in the design of unique and innovative sailing multihulls and hydrofoils, using fibre-composite materials. Our staff have worked with customers such as Harryproa on the structural design of its many proa's and with By Design Group in the development of the awesome 12 metre long racing hydrofoil: 'Spitfire 12'.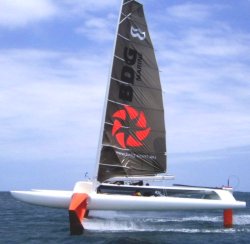 'Spitfire' (12m / 39 ft) foiling at 30 kts
Etamax offers very competitive fixed price quotes for the design of carbon-fibre spars as well as entire yachts and can also arrange professional manufacture through our network of boat builders. Free standing and wing-masts are a speciality. Please contact us for details.